In my last post, I argued that, if you decide to attend a wedding, you don't get to bitch about it AT the wedding or on the Internet after the wedding. And that got me thinking — why would someone bitch about a wedding anyway? People attend parties all the time and don't fret about how expensive the decor and food were (or weren't) and what the hosts wore. Other milestones are celebrated in a perfectly healthy way — graduating students, for example, aren't interrogated by their female relatives for a year in advance about how they're going to wear their hair.
Weddings, however, have culturally become *Events* with high expectations. People feel entitled to Tweet their reactions to them as if they were a concert and judge them as if they were on a panel of a competitive reality show. In fact, there's a reality show called "Four Weddings," in which four brides agree to attend each other's nuptials and then rate their experience.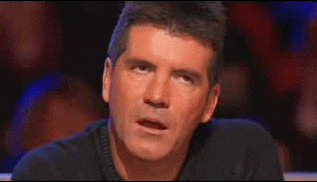 Even outside of "reality" television, expectations are super high. You're not just there to get married and celebrate with loved ones. You are supposed to craft a flawlessly executed Event. If a baby cries, or the mic gets feedback, or things aren't perfectly "paced," it's not just something that happens when you get a bunch of imperfect people in the same room with imperfect technology to watch two imperfect people say vows, but something that "ruins the flow."
It's not enough to simply ensure your guests' comfort. You're supposed to to carefully orchestrate an uninterrupted audio-visual experience. Check out this guide from Glamour. Apparently, it's totally uncool to have any kind of gap after your ceremony, because your wedding is supposed to "flow seamlessly into cocktail hour." So, if it means a lot to you to get married in your church (which only does afternoon ceremonies and isn't that close to the reception venue), fuck you and the traditions you were raised with, because the ceremony is supposed to flow seamlessly into cocktail hour.   Don't you understand your guests don't care about watching you pledge yourself to someone you love in a way that ties into your faith? That invitation was a ticket to a dinner-and-dance show with FREE BOOZE, and nobody likes to wait for free booze.
Other questions from well-meaning guests have asked me questions that include the words:
Grand entrance
Grand exit
Uplighting
Choreography
I went to a great wedding the other weekend that actually had very few of the things people supposedly expect, and people had a great time. Nobody was wondering when the garter/bouquet toss would be (there wasn't one) because they were too busy dancing. I didn't see anyone walking the perimeter, inspecting the uplighting (if there was any). And I don't think anyone was disappointed about not having to stand outside swatting mosquitoes, waiting for the bride and groom to make a photographed "grand exit."
People who want an Experience or an Event can go see Cirque du Soleil. I, meanwhile, will be throwing a party. Not an Event.